GREAT PERFORMANCES AT CHAMPION OPEN
​​

Well done to the guys and girls competing as part of the UTA Northern Ireland team down in Dublin at the 1st Champion international open.

Great performances & results
Matthew - gold,
Lucy- gold
Rheanna - silver
Olivia- sliver (2nd place to her sister Lucy when they met in the final)
ENYA KITTED OUT FOR JUNIOR OLYMPICS SELECTIONS IN TUNSIA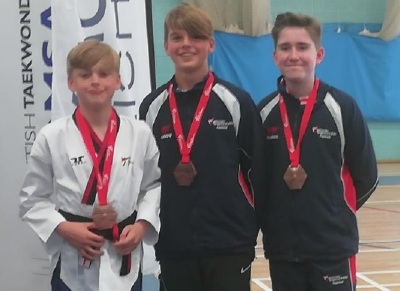 ​​

Enya looking good in her Irish Team tracksuit before heading out to Tunsia for selction fights for the Junior Olympics. We wish her and the other Irish National Team players all the best!
James was pleased to get a bronze medal in the Cadet Male Team category at the British International 14/15th July.

​


James did not medal in his individuals but it was a great learning opportunity to be competing against the best in Europe. So he will be working hard for the Scottish and Manchester Opens (Sept) and the Lisbon Open (Oct).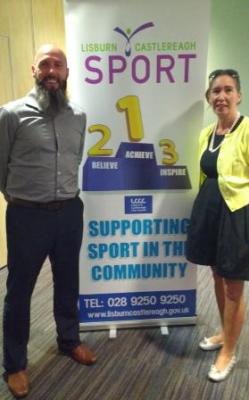 Lisa elected to LCCC Sport Committee

​​ as Taekwondo



Well done to the Lisa Nicholson, Carryduff Club, who was re-elected to the Lisburn Castlereagh Sport's Forum for a third year. 
Lisa is there to ensure Taekwondo has a voice and is not lost amongst the 'big' sports.

Valley & Carryduff FUNdamental Class Assessments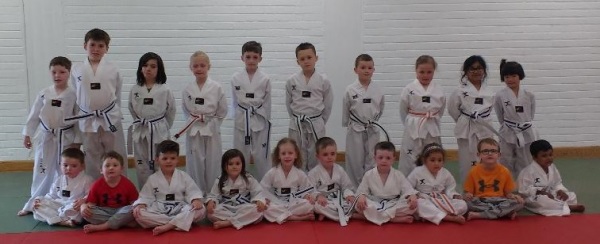 Well done to the Carryduff & Valley FUNdamental Taekwondo students who passed their assessments held on 29th May in the Valley Leisure Centre, Newtownabbey.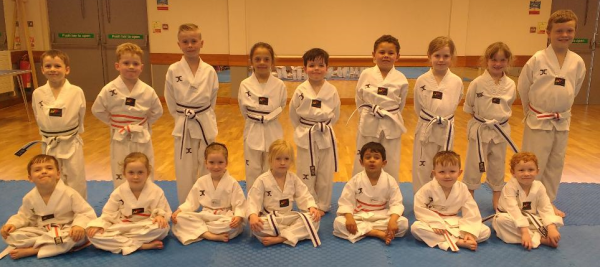 JAMES @ GB POOMSAE SQUAD TRAINING

James trained with GB Poomsae squad at 10 Acres Lane Sports Complex,  home of GB Taekwondo.   

​Five hours of intense training made it hot and sweaty.  It was just as hot outside where it was 28 C in Manchester.
UTA Northen Ireland FORMAL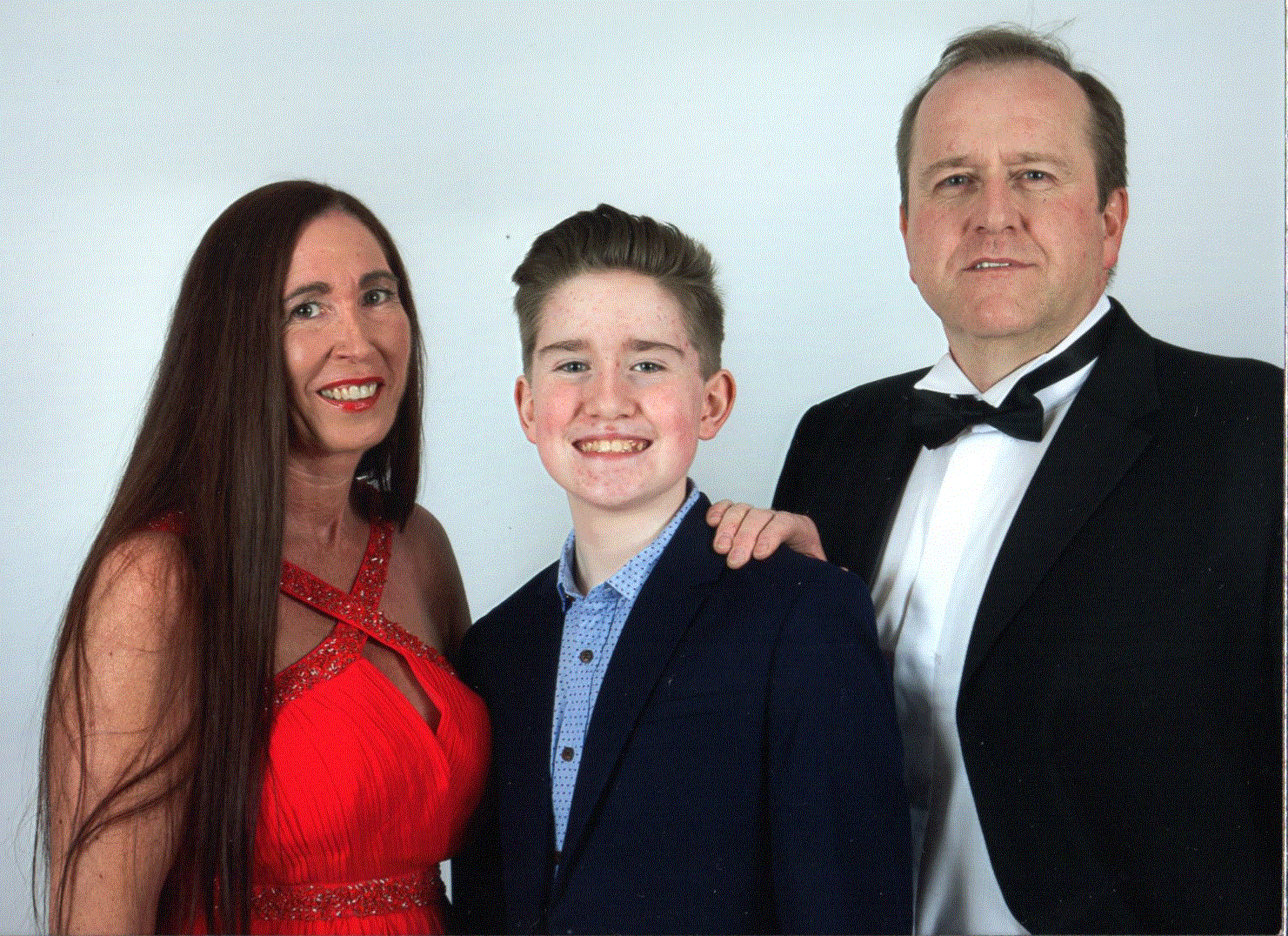 Great night had by all at the UTA NI Formal, held in Clayton Hotel, Belfast.

​After a lovely meal we got down to some serious boogying and generally having good clean fun!
GREAT PERFORMANCES AT CHAMPION OPEN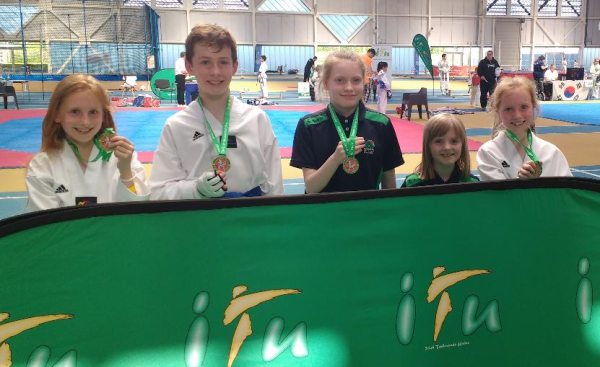 ​​
Well done to the guys and girls competing as part of the UTA Northern Ireland team down in Dublin at the 1st Champion international open.
​
Great performances & results
Matthew - gold,
Lucy- gold
Rheanna - silver
Olivia- sliver (2nd place to her sister Lucy when they met in the final)


ENYA KITTED OUT FOR JUNIOR OLYMPICS SELECTIONS IN TUNSIA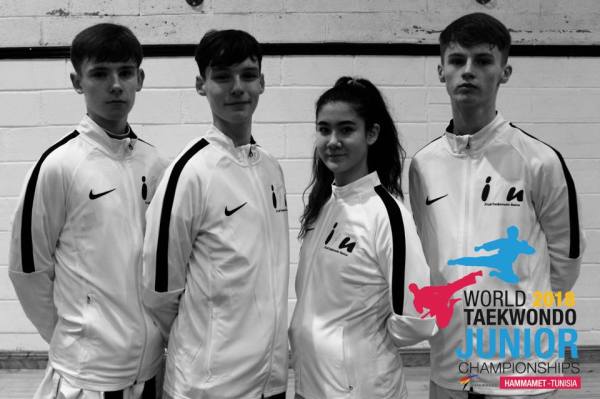 ​
Enya looking good in her Irish Team tracksuit before heading out to Tunsia for selction fights for the Junior Olympics. We wish her and the other Irish National Team players all the best!


James with GB Team at 2018 German Open, Hamburg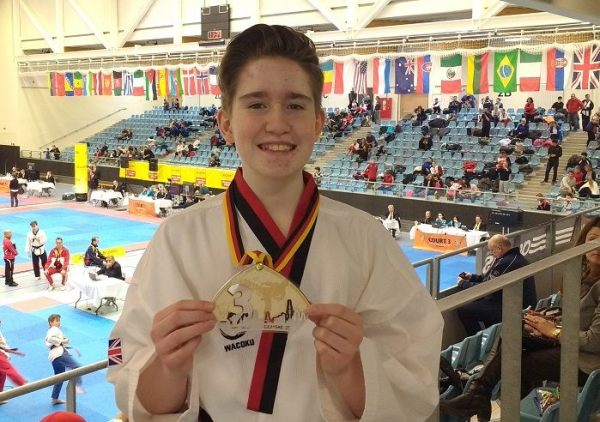 Congratulations to James Nicholson, GB under 14yrs Male Cadet Team, who came away with a Bronze in his team event. Unfortunately a medal in the individual event eluded him after making a wobble, which you can't do at this very high level.
​
Congratulations goes to the Team GB's poomsae squad who placed 4th overall in the competition

JAMES RE-SELECTED TO GB POOMSAE SQUAD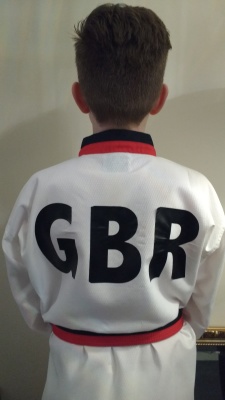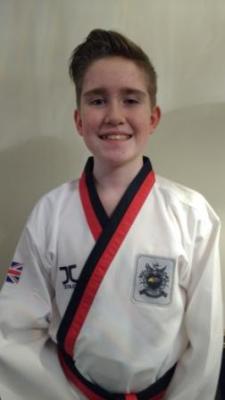 ​​

Based on his performance at the 2017 British Poomsae Championships held in Nottingham at the weekend, James (left) was delighted to receive his written invitation to be re-selected to the GB Poomsae Squad Performance Programme. This allows him to compete at the Lille International in France and the German Open in Hamburg, which are selection competitions for the world championships in Taipei.

James got off to a good start in the Dan U14 individuals; s...tarting off with 29 players he went through the semi-finals in 4th place and into the finals where he finished a respectable 6th place in a very tough category against his other GB Team members; but a strong performance saw him retain his GB Squad place.

James was next up in his pairs with his partner Victoria. Another tough category with 21 pairs starting off. The two got through the first cut and finished 10th place overall.

James then competed strongly in his team with Joshua and Thomas event picking up a well deserved bronze
​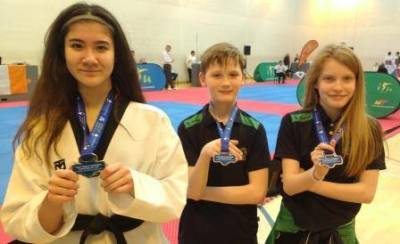 2 GOLD, 2 SILVER, 1 BRONZE South Dublin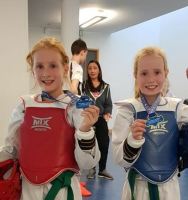 Well done to Enya (Gold), Etan (Bronze) and Rehanna (Silver) on some splended performances at the South Dublin Open.
Enya's match was stopped against Irish Team member after the 20 points gap was reached with Enya dominating the fight. So brilliant performance. Poor Rehanna trying to get over an illness ran out of steam in the 3rd round of the final and lost her points lead to get the silver. Ethan made a great come back... in the later stages of his semi-final fight but just couldn't quite make it
Olivia and Lucy Bell competing to-day came away with a Gold and Sliver respectively. Unfortunately it could not be 2 golds because the 2 twin sisters where in the same weight category and met each other in the final, put on an exhibition match, which ended 22-21 to Olivia!
Carryduff at Commonwealth Games Baton Relay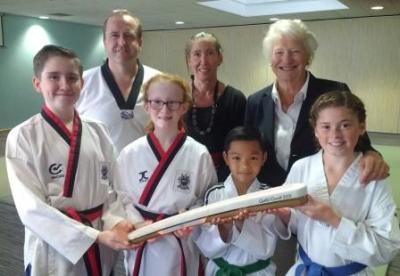 Carryduff Taekwondo Club was represented when the Queen's Baton Relay came to Lisburn finishing its last leg of Northern Ireland and as part of visiting all the Commonwealth countries around the world in the lead up to the Gold Coast Commonwealth Games in April 2018.
The kids from Carryduff and Lisburn clubs put on an impressive kicking display with coaches Lisa and Bertie Nicholson. The gathering all said how impressed they were with the kids.
It was good for the kids to hold the baton, which was unexpected, and also to meet with Dame Mary Peters.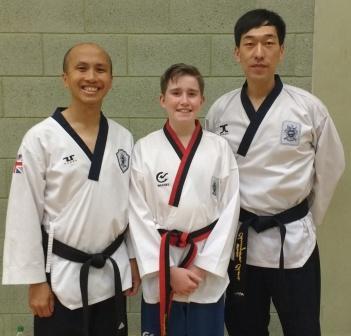 ​​​​​​James, seen pictured with his GB Poomsae under 14 yrs coaches: Mr. Chan Sau (L) and Master Sang Young Park at the recent GB Poomsae Squad training held in Sunderland University.​​

It was great for James to train along other high calibre players and to meet his new coaches.
​
James will be heading off again in a couple of weeks to the GB Poomsae training camp in Manchester​​​​


Getting the FUNdamentals right at class assessment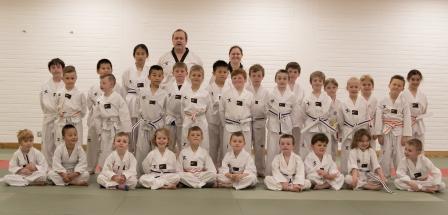 ​​
​
​​​​​​It was very pleasing to see the improvements made buy the kids from the FUNdamental Taekwondo classes from Valley and Carryduff Taekwondo Clus at the grading assessment held on Sunday 4th June in the Valley Leisure Centre.​​

We had 2 assessments:  one group going from white belt to orange stripe and the second more advanced group moving from orange stripe to purple stripe.

The assessment was based on the syllabus for yellow stripe, which the guys and girls are edging towards.  However the class is not about gradings per say, but allowing the kids to have fun through Taekwondo training and sorting out those motor skills, basic self defence and discipline so they can hit the 'mats' running when they are old enough for the main class training. 

​
​​
Silver Success at Harrogate International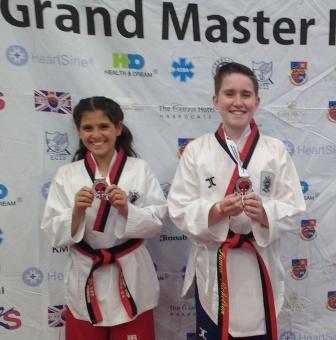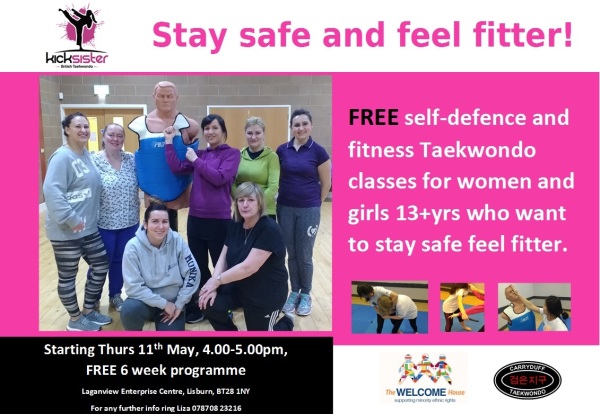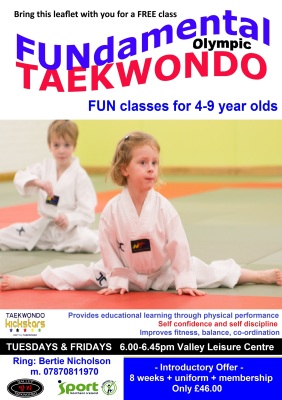 New Kickstars class opens in Valley Leisure Centre, Newtownabbey
We are pleased to announce that due to populardemand we have opened a second Kickstar class in the Valley on Firdays 6.00 to 6.45pm.
These classes are designed to work on the motor skills of young children.
So if you want t give your children a kickstart to their physical and emotional aspects then get them along.  :-)


​​
​​​Fighters from Carryduff Taekwondo brought home a bag of bling from the 2017 Meath Open held on Sat 6th May.  It was great to see two new Talent ID fighters with medals around their neck.
If interested in Olympic Taekwondo competition then just let Bertie Nicholson know.
​
​​
.

​​
SILVER SUCCESS AT DUTCH OPEN!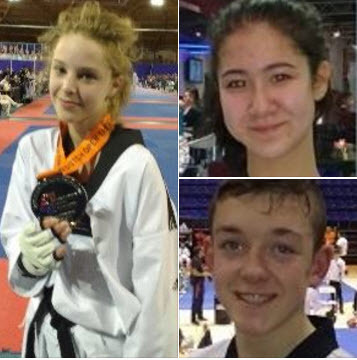 ​

Hard kicking Jodie McKew from little Dollingstown traveled to Eindhoven in Holland and fought and won three fights in style to get to the finals of one of the biggest open competitions in the world where she achieved silver losing out to a more experienced German girl.
Her first fight against her first German girl ended quickly when a commanding lead was built up. Jodie then moved onto a Greek girl who was surprised by the agility and speed of Jodie and had no answer to her perfectly times kicks. After only a short break Jodie was in action against a GB national squad player in the semi-finals. Jodie also ended her chances of progressing by simply keeping a good guard and making the bit chagis count.
This took Jodie into the final of the Dutch Open! Absolutely a major achievement for anyone in Taekwondo and for your first Dutch Open! Unfortunately because of mix up in timings Jodie only had 10 mins rest before her final took place. The experienced German girl used this to her advantage and set a high pace which soon saw Jodie run out of energy and started to lose points to the German.
The NI Team also had Enya Robinson competing at the very competitive Junior level for the first time at a G1. Enya progressed smoothly through the first round, when many other of our friends from other squads went out the first round, showing how hard the Dutch Open is. Unfortunately Enya did not make it past the second round.
Also competing was Jack Adamson in the male seniors, also for the first time at a G1! Unfortunately Jack fell foul of a referee who was far too eager to apply the new rule changes which left Jack unsure of what he could and could not do! The shame was he was the equal of the other fighter.
"To come to the Dutch Open for the first time, with 1200 fighters from all corners of the world competing, and get into the final is a tremendous achievement.", advised Northern Ireland Team Coach, Bertie Nicholson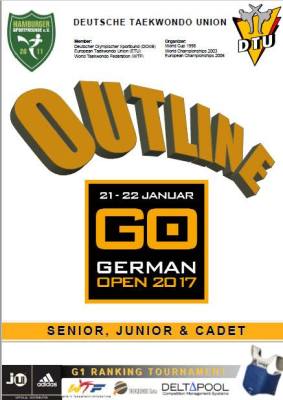 NOT THIS TIME AT GERMAN OPEN
It was a return to the German Open in Hamburg after a few years not competing.  So it shows we have a new generation of fighters that are capable of performing at this exremely high level.
Well doen to Jodie McKew, Jack Adamson and Gideon Pambid

SOME GREAT RESULTS FROM ROTTERDAM OPEN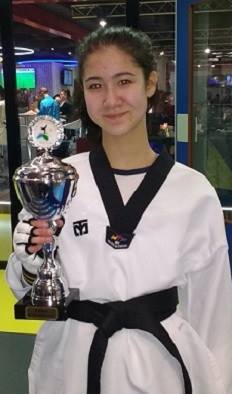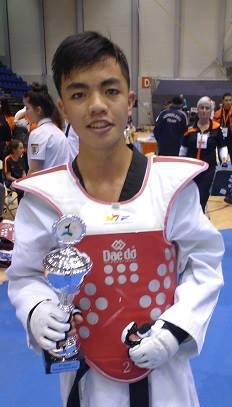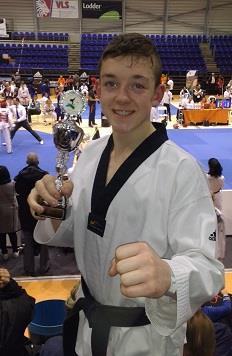 Enya - Gold, Gideon - Silver, Jack- Bronze
A big competition with 600 fighters and 7 rings made for a great atmosphere. Enya demolished both her opponents with her first fight being stopped with a points gap and her final when she X-kicked her opponent in the face and who could then not continue.
Gideon was on his way to winning and causing a major upset against a Dutch guy who is known for winning all round Europe. In the last 30 secs he tied with Gideon and when it went to sudden death in a fourth round the Dutch guy slipped in a monkey kick to win, to the relief of the Dutch crowd! But a great days fighting for Gideon.
Jack had to fight up in -68kg and was put out in the second round by a giant of a guy who went on to win, but not without Jack rattling his teeth with a awesome crescent kick! smile emoticon:-)
Jodie and Jessie competed strongly but it just wasn't their day. A big pity for Jodie who only the week before had beaten GB Squad favourite
​​Natalie Kidd (Horizon GB Coach) added, "Enya and Jack were fantastic,amazing performances but wow Gideon was sensational, in that final he had amazing support from GB clubs also the Irish club champion tkd fantastic finish to an amazing competition, the Northern Ireland squad and Horizon taekwondo academy were all amazing."
​​